Its being few year that i was looking forward to do Mim (Mimrah) & Fifi (Rafidah) wedding. Mim is one of smartest and Fifi is the most fabulous lady, also she run's blog totally on makeup.
Never thought it would be held in the beautiful horticulture park, this place have an amazing landscape. But due to the weather the wedding solemnisation and reception was held in indoors.  When the big moment came everything of this wedding was perfectly organised by Roslina's team (Wedding & Romance).
I started the shooting from 8am. The first event was the solemnisation ceremony,  bride and groom came in an indian attire. During the ceremony the bride was asked if she would like to be married to the groom (This is something i usually don't see my weddings) and then the groom was ask to accept the bride as his wife.  And after the ceremony everything was changed into a Malayan theme.
The groom was escorted back to the wedding reception with the traditional Malaysian wedding drums and singers. The last entrance was the bride and groom together in there wedding attire. There was a lot that happened at the wedding but I will let my photos to speak more about this wedding.
I have known Mim (Mimbe) from secondary school, lets just say 18 years of friendship. He is the most influencing person in my carrier and always advice me to do things in the best. I've never imagining doing my best friends wedding and its a privilege to be present and doing what i do the best.
I have included some crazy photo's of me on this collection, those were helped to photographed by the amazing videographers.
– Wedding Planner: Wedding & Romance
– Bridal Gallery: Fatimah Mohsin
– Decor & Stationary: The Wedding Chateau
– Food: Anggun Kitchen
– Photographer: Ali Nishan (Millzero) – Islandcupids
– Videographer: Pixsync
– Mehndi (Bridal & Bridesmaids): Chinta Mehndi
– Venue: Horticulture Park
October 2013
Mehndi Ceremony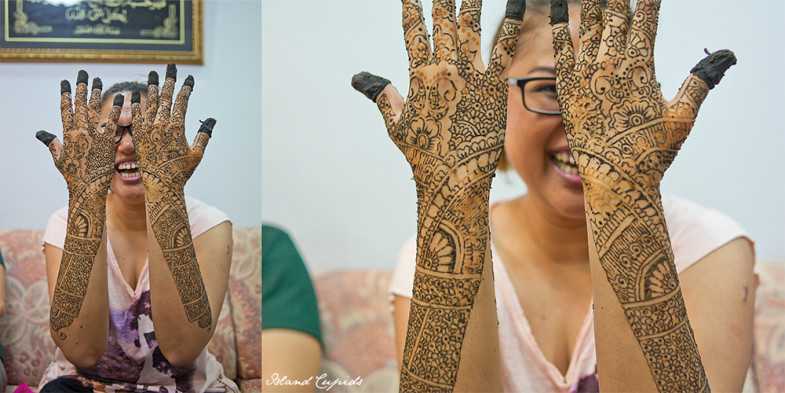 The wedding.
---
---
You might also like
---