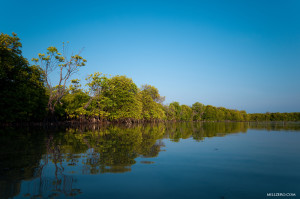 Noonu atoll is where a lot of wetland areas can be found in Maldives. Few days back I was invited to a few islands of the atoll. While there, the large open system mangrove at Maalhendhoo caught my eyes.
The island has about a 1:1 ratio wetland. What I mean to say is that this island has a relatively large Kulhi (mangrove). When you entering into the harbor of the island you are at one end of the huge Mangrove, to the north you would see the rest stretch till horizon.  Different species of vulnerable plants grow on this sandy place, such as Takafathi and, mostly, Karamana(Ceriops tagal). However, a few Thela (Excoecaria agallocha) plants can also be found.
Lots of animal species, including young prawns, crab, snail and fishes can also be observed.  Bird life is very low at this season.  I also noticed the sea cucumber (Huifilandaa (Holothuria scabra)) that has been introduced into this ecosystem. I was very interested in learning about the farming techniques they use and enquired my friend about it. He told me that the aquaculture work started 2 years ago and young specimens had been released to the mangrove twice.  Four people from the island have been employed to maintain the project would be paid MRF 1/- for keeping the sea cucumber for a period of one year and MRF 2/- for second year.
I asked my friend how they get the young sea cucumber.  He told me that the people buy it from Landaa Dhombe (sea cucumber brother) at a very cheap rate and that they have to sell it after keeping it in the water for an year or two.
I also asked him who came up with this idea. He said it was Landaa Dhombe's idea. He has been cultivating this in several islands in Shaviyani, Noonu and Raa atolls.  He had come to this island and suggested to the people that they would get a good income out of project – like a million Ruffiyaa per annum.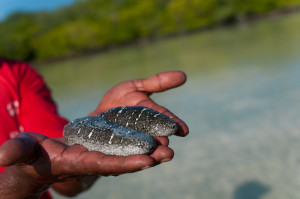 I asked him what happens if someone takes these sea cucumbers and sell it to someone else?  His reply was "Dhombe would know this because only he has this species of sea cucumber in Maldives". His answer really intrigued me!
I asked how Landaa Dhombe produces it. I was told he had a laboratory in one of the uninhabited islands in Raa atoll and a farm island given to him by the government located in Shaviyani atoll. Apparently, their technique is kept a secret and only he and his son could enter the laboratory.
I asked how often Landaa Dhombe visits the island. My friend said the guy comes to the island with the young species and goes back.
I asked him if he was a microbiologist. This time my friend didn't know what to say and after waiting for some time he said that the guy lives in Malaysia and had bought the laboratory from old Japan/Korean associates who were running a pilot project in Shaviyani.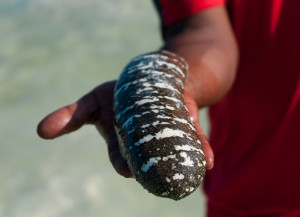 I asked what happen to those people. My friend said he heard that the project was a failure. Apparently they couldn't cultivate any sea cucumber and Landaa Dhombe had bought equipment as he had been working with them inside the laboratory and outside.  Also sometimes he brought some samples from other countries.
Next day early morning, as usual I explored the mangrove from the jetty till the end.  I found that this open system mangrove had been blocked by some man-made barrier. I also found lots of plastic bags which had been used to transport new species to the mangrove 2 weeks ago.
After hearing and seeing all this, I figured that Landaa Dhombe was bringing an alien species and can cultivating it in the mangrove. Under Convention of Biodiversity it is stipulated that we have to protect our environment from alien species. Moreover, under that convention it is illegal to import any foreign species and release them into our environment.
As this year is celebrated internationally as the year of biodiversity and Maldivian government has officially started this movement few weeks back at Sultan Park, Male'. I request all relevant authorities to check these places for Invasive alien species and if this is illegal to stop this project immediately. More likely to stop spreading these  (Holothuria scabra) sea cucumber in different islands and habitats.
For Refernce :
Invasive alien species introduced by human activity have some of the most dramatic effects on isolated ecosystems such as islands and are a leading cause of species extinctions. Islands are more prone to invasion by alien species because of the lack of natural competitors and predators that control populations in their native ecosystems. In addition, islands often have ecological niches that have not been filled because of the distance from colonizing populations, also increasing the probability of successful invasions. http://www.cbd.int/island/invasive.shtml

COP 5 Decision V/8 Alien species that threaten ecosystems, habitats or species


INTERIM GUIDING PRINCIPLES FOR THE PREVENTION, INTRODUCTION AND MITIGATION OF IMPACTS OF ALIEN SPECIES

A. General
Guiding principle 1: Precautionary approach Given the unpredictability of the impacts on biological diversity of alien species, efforts to identify and prevent unintentional introductions as well as decisions concerning intentional introductions should be based on the precautionary approach. Lack of scientific certainty about the environmental, social and economic risk posed by a potentially invasive alien species or by a potential pathway should not be used as a reason for not taking preventative action against the introduction of potentially invasive alien species. Likewise, lack of certainty about the long-term implication of an invasion should not be used as a reason for postponing eradication, containment or control measures. http://www.cbd.int/decision/cop/?id=7150

Ramsar Convention
The Convention on Wetlands of International Importance, called the Ramsar Convention, is an intergovernmental treaty that provides the framework for national action and international cooperation for the conservation and wise use of wetlands and their resources.
Negotiated through the 1960s by countries and non-governmental organizations that were concerned at the increasing loss and degradation of wetland habitat for migratory waterbirds, the treaty was adopted in the Iranian city of Ramsar in 1971 and came into force in 1975. It is the only global environmental treaty that deals with a particular ecosystem, and the Convention's member countries cover all geographic regions of the planet
Bluepeace Maldives. http://www.bluepeacemaldives.org/news2007/atoll_mangroves.htm